Just for a change a different style of 40th.
I found this one hard work!
The birthday girl is having western theme party and loves diamonds
(don't we all given the chance, hahaha)
so, though goodness knows why, I suggested a 'blingy' cowboy boot.
I spent ages just deciding what papers to use, but once I got started it wasn't so bad. I still wanted it to look feminine, hence the FD & prima but for once there is no ribbon. Felt strange not putting ribbon on.
BG paper from (poss)Sweet Shoppe, 'For the Girls' collection by Amy Wolff.
Boot cut from a Google image pic and stamped with a little swirly flower.
Heel and sole, spur, badge and all the 'goldy' bits cut from sparkly gold card.
The badge and spur are detail gold embossed. Happy birthday cuttlebug folder embossed on off white pearly paper.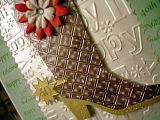 The boot is slightly shaped and attached with silicone to give some dimension.
x