We heard tonight of the death of an old friend, so I've made this to send to his wife.
A5 side opening and as he was such a lovely man I've parted with a tassel.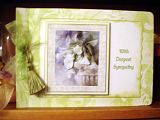 Organza ribbon and tassel from Joanna Sheen. BG paper is from the collection Lemon Grass by Penny Springman from Sweet Shoppe.
Oh, I forgot to say I used two eyelets to thread the ribbon through. I haven't used them for quite some time and forgot how much hammering was needed :-(
Some of the flowers have an extra layer, can you call that decoupage?