Another 'midnight oil' card!!
This is just short of A4 but it was not the card that took the time.
Silly me, said I would make a box for this but then realised
after
I'd finished the card that I only have A4 size CS.
I have managed to make a box by adding sides to it. It is not too bad and needs decorating if the lady is happy with it.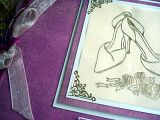 I wanted to use This Joanna Sheen shoe stamp, only used it once before.
It is stamped on vellum and embossed with fine detail gold.
The flowers I've had for years and the ribbon was delivered Saturday from Joanna's shop, thanks to the excellent service from
Sheenie Towers
.