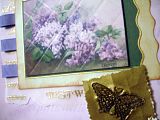 Image from a CD printed on to card scored in a diamond pattern. This didn't turn out as good as I expected because it is much better to
stamp
the image onto the scored card.
I don't have that many stamps so thought I would try this technique on the printer.
The greeting is printed on tracing paper and embossed with detail gold powder.
The butterfly is stamped on to a tag made with Debbi Moores metal magic and cracked to look distressed. I forget where I got the BG paper - had it ages.