Side opening A5
I've made this for my sister in law's 60th birthday and is the first card I done
entirely
black and white.
Erte image with one layer decoupaged (oh, how fiddly were those thin doggy legs) Matted onto black mirri card with number handcut from same card. Finished with ribbons, flowers and 'bling'.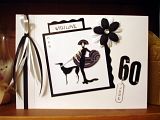 I didn't realise til I was half way through making it just how appropriate it is.
Brother in law died nearly 6 years ago and she doesn't want a party so we are having a 'girls only' evening at Peterborough dog racing. Transport is a limo and the evening includes a meal, the first bet and a drink.
It should be fun -
the girls are going to the dogs!!!
Thank you for popping by
x