Well! this is the box.
I managed to hide the joins with peel-offs.
Looks better than I expected.
I'm sure the recipients will have better things to do
than inspect it for flaws, LOL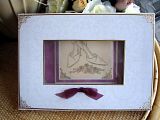 Isn't hindsight great!!
I see now that it would have been better to have cut the opening
higher up so the shoes were central in the opening.
Never mind it is done now.
It was approved by the lady who ordered it.
Sigh of relief.