Side opening A5
Son asked for a card for DIL at the last minute as is the way of sons!!
As I was at daughters house for the week with no cardmaking stuff, I popped home and made this one. I added an extra layer to the poppy flowers. Very fiddly to cut out :-)
Tent fold A5
I did this one on my daughter's behalf. DIL works in a casino a couple of nights a week hence the casino theme.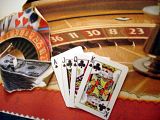 It looked rather masculine so added one of my favourite FD's
x