The bridegroom is a
designer
so I wanted this to be faultless or as near as.
I am so cross with myself cos I mucked it up.
Can you spot the 'deliberate' mistake???
Apart from the name tag not being level - that is not fixed yet!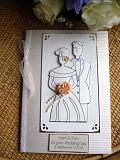 You know how some people have such a good eye for detail but I hope that my mistake doesn't 'hit' him in the eye.
I would cut off the front only it is a pop-out card and I've finished the middle except for the greeting and possibly a verse.