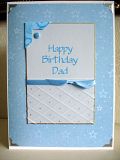 A quick card for the grandchildren to give to their Dad. The usual A5 size.
My daughter gave me no suggestions so she'll have to settle for this
And this one took me an age!! which is why the other 2 were done in a hurry.
I had nothing in mind when I started it and it sort of evolved. I must confess, this seems to be my method of cardmaking. I am in square mode for this one.
Fortunately I am usually given some notice of orders for cards and therefore have time to shuffle paper and bits around.
These usually come in dribs and drabs anyway.
This must equal my record in cardmaking. THREE in one day - phew.