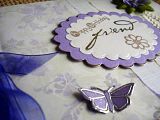 This card was made in a bit of a hurry when I should have been more adventurous and made a better job of it. I used Spring Romantic papers from Daisie, one of my favourite collections. I managed to part with 2 more Flora Doodles, secured with a brad and a length of pearl. Finished with organza ribbon and a peel-off butterfly.
I am not happy with the stamping and embossing on the scallop. I have limited stamps and had to use what would fit. I guess I should have redone it but left it too late.
I also made a matching wallet for her gift.