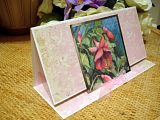 A quick card for a Scottish Rab fan. I hope the tartan BG is the correct one.
For the second card, I was trying to be a smarty pants and do a 'Z'? fold card. I attempted to do an A5 when the instructions were given for A6. Upshot is, I then decided I wanted it to fit a DL envelope so the result is not right but will do.
I will do a proper one when I have more time.